Health pass
In accordance with government recommendations, all visitors to the Louvre aged 12 years and two months or older must show a Health Pass.
Drawings, Prints and Pastels
The Rotonde Sully
Just a few steps away from the Pyramid is the Rotonde Sully, where the Louvre's collection of prints and drawings is housed in two rooms with carefully controlled lighting. Here you can discover drawing and print-making techniques and admire the work of the greatest European artists.
A huge and varied collection
The Louvre's graphic arts collection is one of the largest in the world! It comprises almost 250,000 works including drawings, pastels, prints and miniatures dating from the 11th to the 19th century. The greatest names are represented: the Italian masters Leonardo da Vinci, Raphael, Michelangelo and Titian, the French artists Nicolas Poussin, Charles Le Brun, Watteau, Delacroix, Géricault and Ingres, and outstanding Northern European painters such as Albrecht Dürer, Hans Holbein, Rembrandt and Peter Paul Rubens.
The wide range of media represented includes single-sheet drawings, illustrated books, illuminated medieval manuscripts and artists' sketchbooks. The biggest works are huge 'cartoons' – full-scale preparatory drawings for large paintings or tapestries.
Extremely fragile works
This collection is also one of the most fragile. The works cannot be permanently on display as they are very sensitive to light, but they may be shown in temporary exhibitions under strictly controlled conditions of light, temperature and humidity. After a maximum of four months' exposure, they are returned to the darkness of the storerooms for the next five years at least.
However, you can see the department's treasures on the museum's collection website; they can also be viewed by appointment in the department's Viewing Room.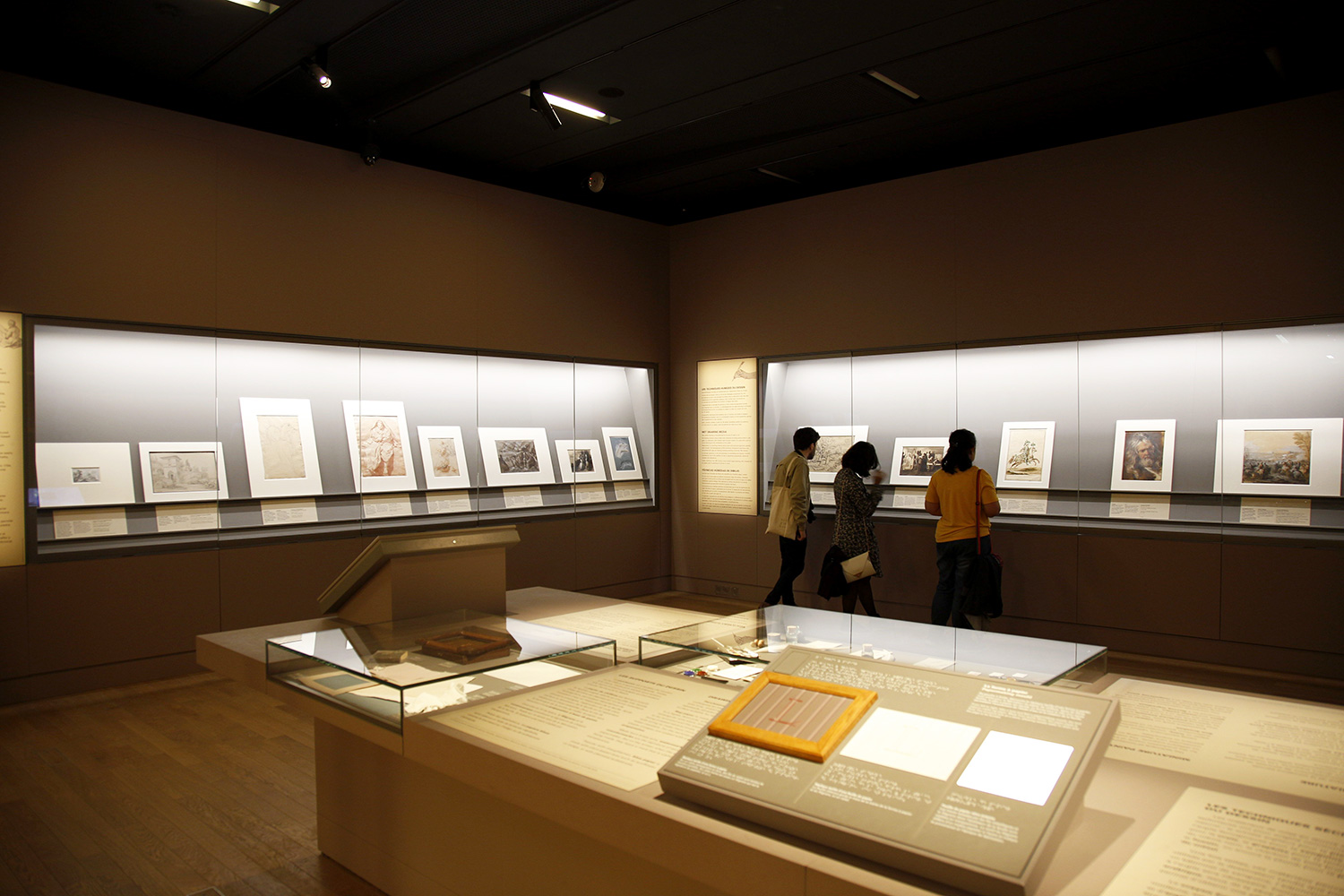 Understanding drawing techniques
Charcoal, pencil, red chalk, pastels, intaglio printing, paper-making… the techniques related to drawing and printing are many and varied. In addition to its temporary exhibitions, the Rotonde Sully has a permanent learning section where you can find out about these techniques. Six different themes are explored: drawing media, dry and wet drawing techniques, pastels, miniatures and engravings.
The use of drawing and printing tools is demonstrated with short films of highly skilled artists at work.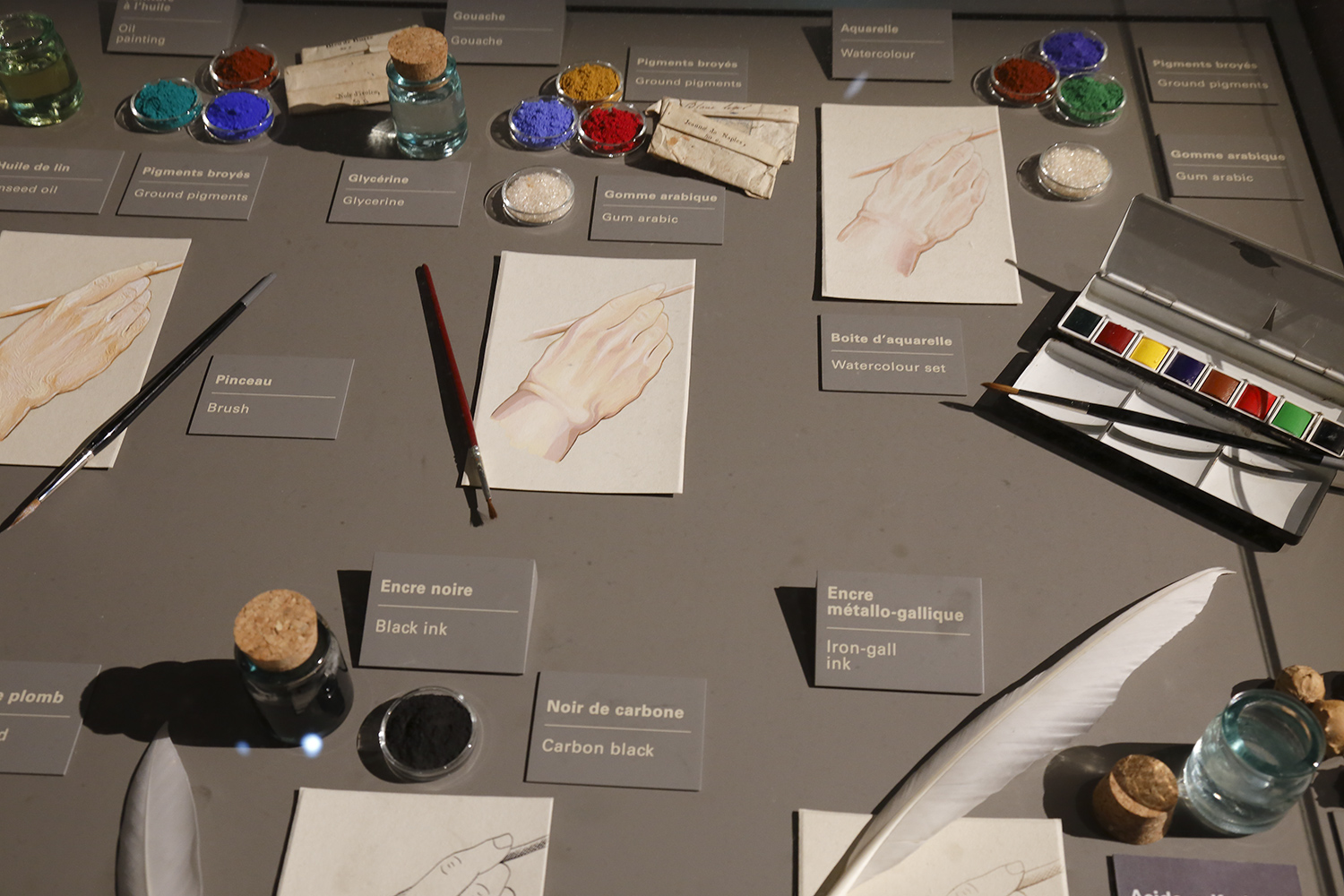 Masterpieces from the collection
A powdery portrait of a cultured lady
You might expect a portrait of this size to be an oil painting, but it is actually an outstanding example of the delicate art of pastel drawing – and an idealised depiction of the Marquise de Pompadour, Louis XV's mistress and a great patron of the arts. The elegant Marquise is shown with a musical score in her hands, surrounded by prints, a globe and volumes of Diderot and d'Alembert's Encyclopedia, whose publication she had supported.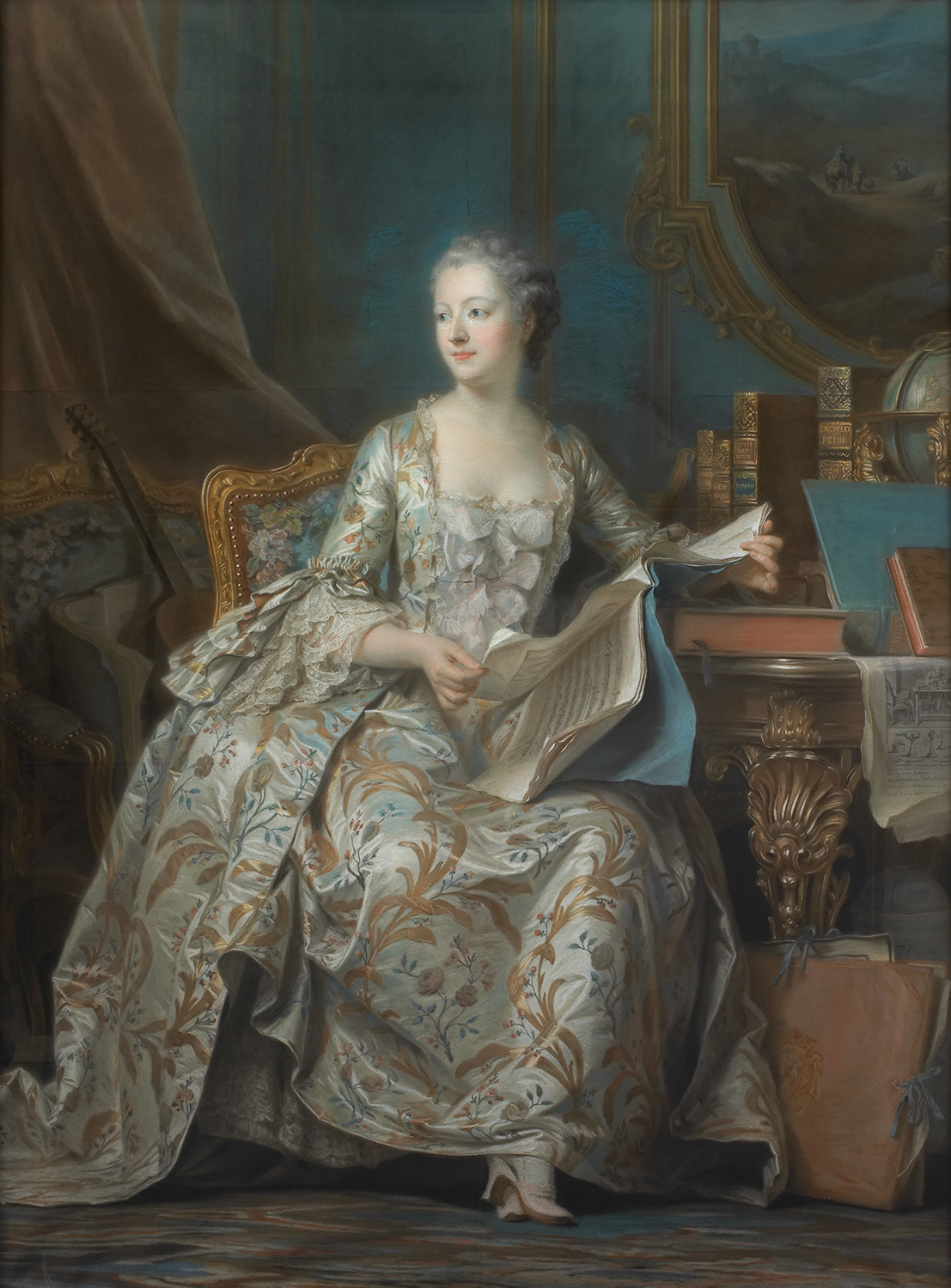 Another idealised portrait
As far as we know, this is the only one of his drawings that Leonardo highlighted with several coloured pigments. It depicts the noblewoman Isabella d'Este, a great patron of Renaissance art. Her face is shown in profile, as it also appears on a bronze medal by another artist. Leonardo's drawing was a preparatory sketch for a portrait that was never painted; it reflects his tendency to idealise the human face, creating depictions that were lifelike but imbued with a perfect, universal beauty.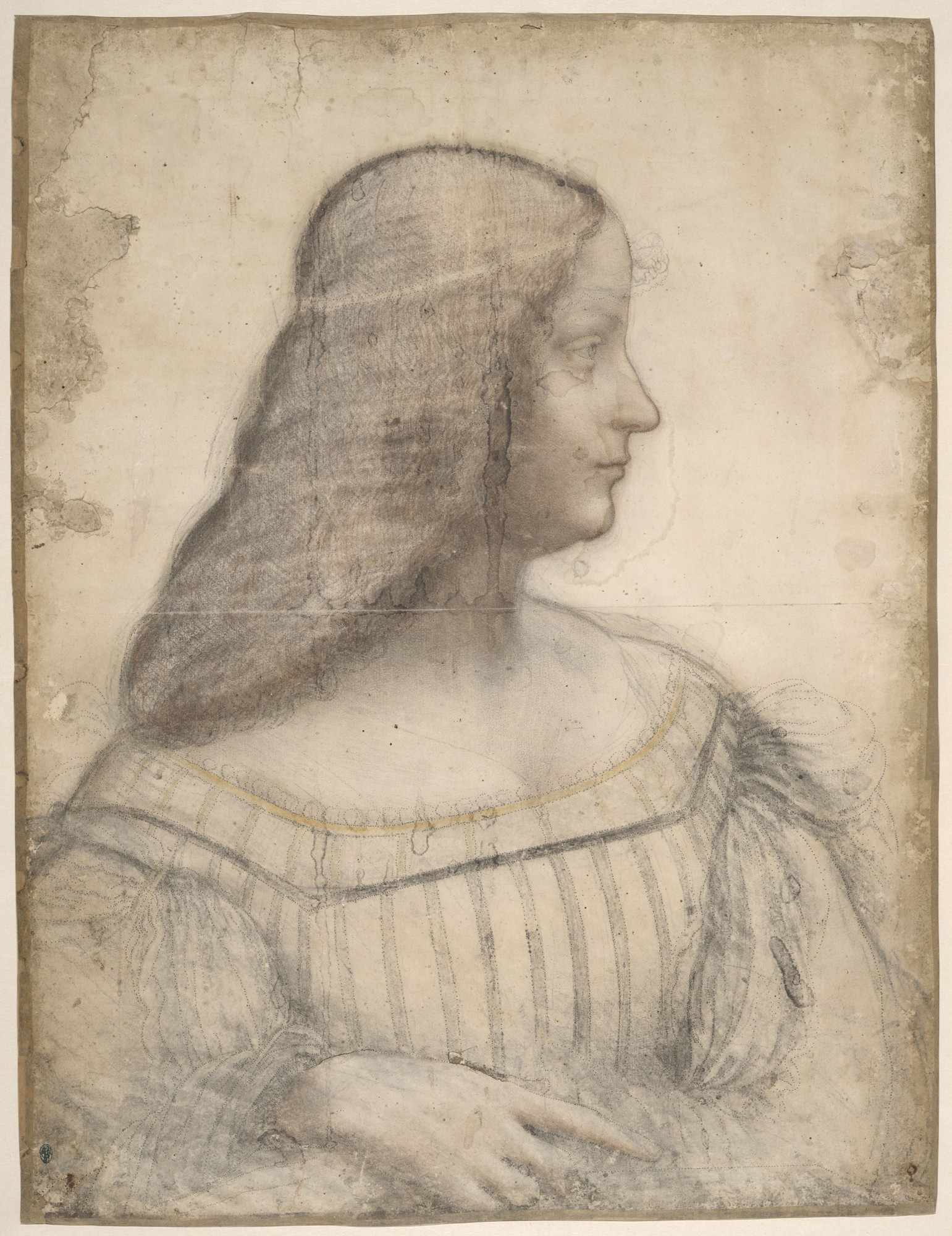 Rembrandt - The Three Crosses
The Dutch painter Rembrandt was a master of 'chiaroscuro' – the use of contrasts between light and shade. The Three Crosses, his most impressive engraving, attests to this and to the precision and energy of his technique. The expressive strokes and the beam of heavenly light serve to heighten the scene's dramatic intensity. The Louvre holds an outstanding group of works by the Dutch master – over 200 prints including portraits, self-portraits, landscapes, genre scenes and religious subjects.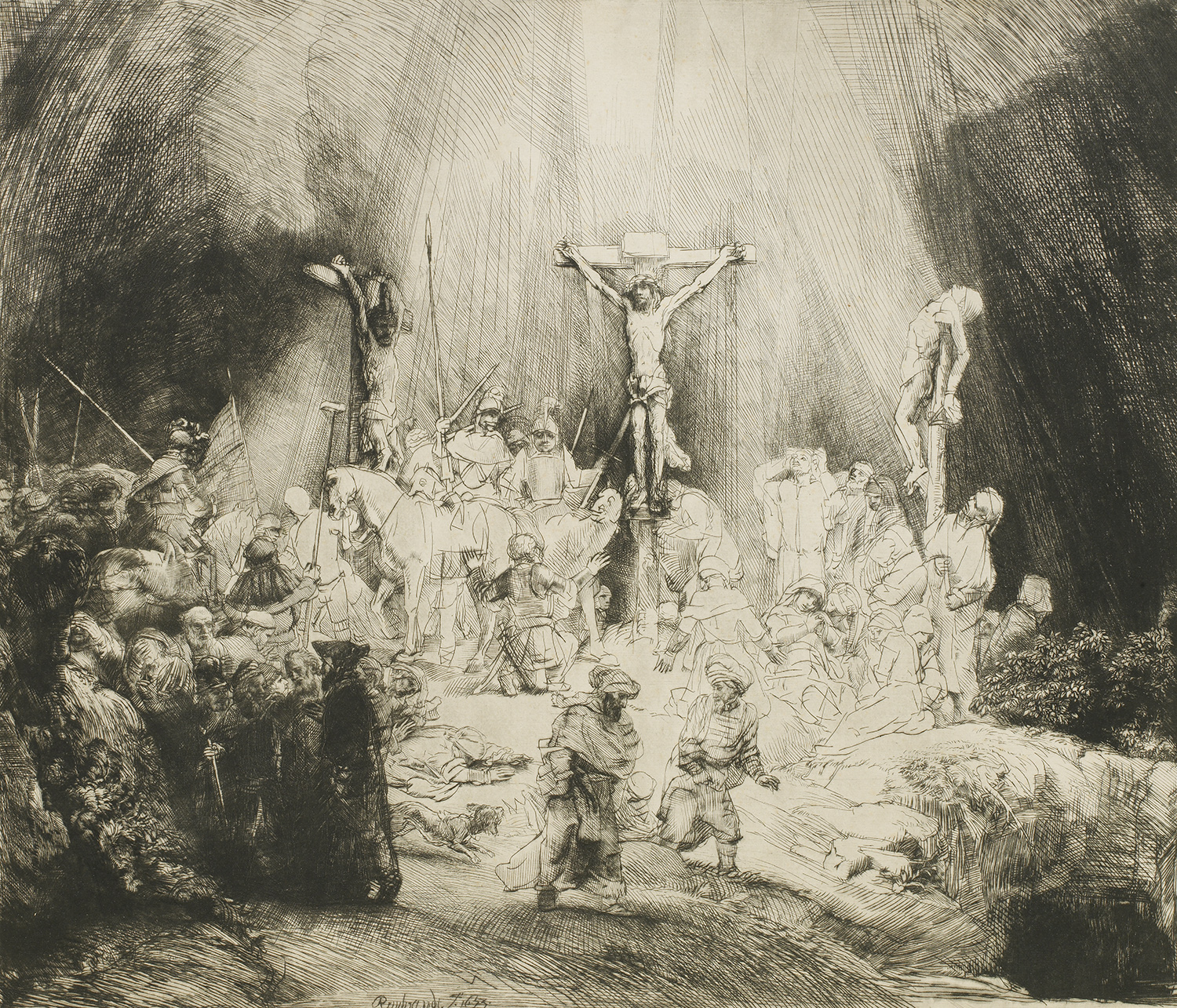 Prints and drawings at the Louvre
© Musée du Louvre, dist. RMN - Grand Palais / Martine Beck-Coppola
Maurice-Quentin de La Tour, Full-length Portrait of the Marquise de Pompadour
Engraving technique
Louis Boursier, holder of the prestigious 'Meilleur Ouvrier de France' title (awarded to outstanding craftspeople), demonstrates the copper engraving process – from preparing the plate to printing – in the Louvre's chalcography workshop.
Youtube est désactivé. Autorisez le dépôt de cookies pour accéder au contenu.
Pastel technique
Painter, pastel artist and teacher Timothy Stotz demonstrates the pastel technique.
Youtube est désactivé. Autorisez le dépôt de cookies pour accéder au contenu.
The technique of paper making
How is paper made? Jacques Bréjoux, recognized as a 'Maître d'art' (Master of Art) by the French Ministry of Culture, explains the traditional Western paper-making technique. His skills are regularly enlisted by institutions such as the Louvre and the Château de Versailles.
Youtube est désactivé. Autorisez le dépôt de cookies pour accéder au contenu.