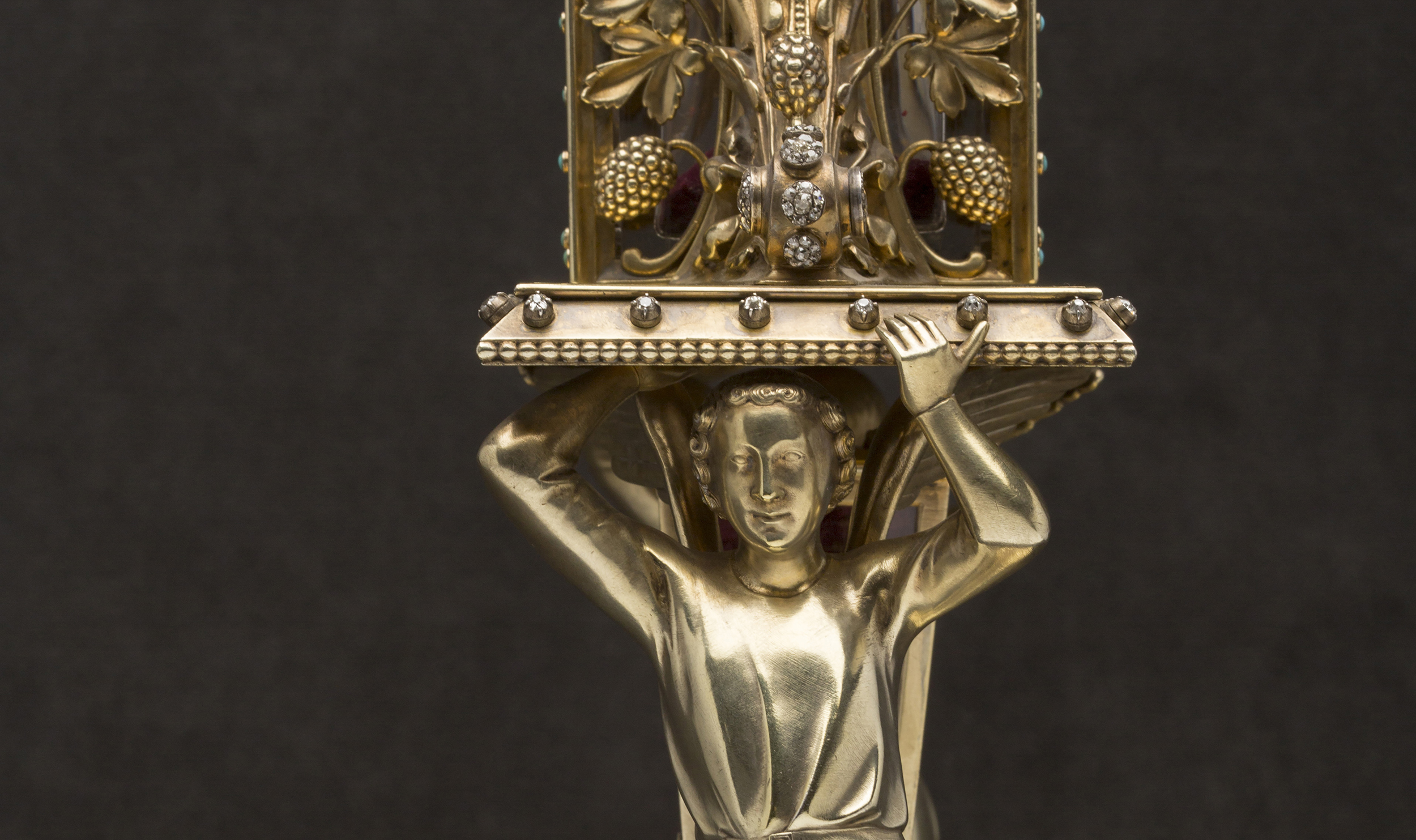 THE TREASURY OF NOTRE-DAME CATHEDRAL
From Its Origins to Viollet-le-Duc
18 October 2023 – 29 January 2024
THE TREASURY OF NOTRE-DAME CATHEDRAL
From Its Origins to Viollet-le-Duc
18 October 2023 – 29 January 2024
As restoration work on the cathedral enters its final stage, the Musée du Louvre dedicates an unprecedented exhibition to the treasury of Notre-Dame de Paris. This treasury will then return to the cathedral's neo-Gothic sacristy, built to hold it by Jean Baptiste Lassus and Eugène Viollet-le-Duc from 1845 to 1850.
This exhibition provides a condensed history of the treasury through more than 120 works, restoring them to the context of its age-old history: from its origins to the Middle Ages up to its resurrection in the 19th century and full flowering with Viollet-le-Duc during the Second Empire.
Notre-Dame's treasury, entirely reassembled after the French Revolution, is famous today for the prestigious relics it houses, particularly those of the Crown of Thorns and the Wood of the Cross, transferred from the former treasury of Sainte-Chapelle and, during the reign of Napoleon I, given new reliquaries in Notre-Dame.
The treasury is also renowned for the splendour of the masterpieces of French precious metalwork assembled there in the 19th century, especially those designed by Eugène Viollet-le-Duc, providing extraordinary testimony to the history of Notre-Dame and of France itself.
The exhibition provides an unprecedented retrospective, exploring for the first time the history of the treasury prior to the French Revolution. Inventories, historic accounts, paintings, illuminated manuscripts, prints and other illustrated documents, along with several surviving pieces, will retrace the long story, starting in the Merovingian era, of Notre-Dame's treasury.
ORGANISED BY:
Department of Decorative Arts, Musée du Louvre: Jannic Durand, honorary curator; Anne Dion-Tenenbaum, curator and deputy director; Florian Meunier, curator; Michèle Bimbenet-Privat, honorary curator.
ACKNOWLEDGEMENTS
This exhibition is supported by Kinoshita Group and Groupama.
With the support of the Fondation Etrillard.
Exhibition organised by the Musée du Louvre, in partnership with the Île de France Regional Directorate of Cultural Affairs, the Diocese of Paris and the Bibliothèque Nationale de France.